Leggett & Platt S-Cape 2.0 and S-Cape+ 2.0 Premier Adjustable Base
850 Lb. Whisper Quiet Motor - 1-3-25 Warranty - Made in the USA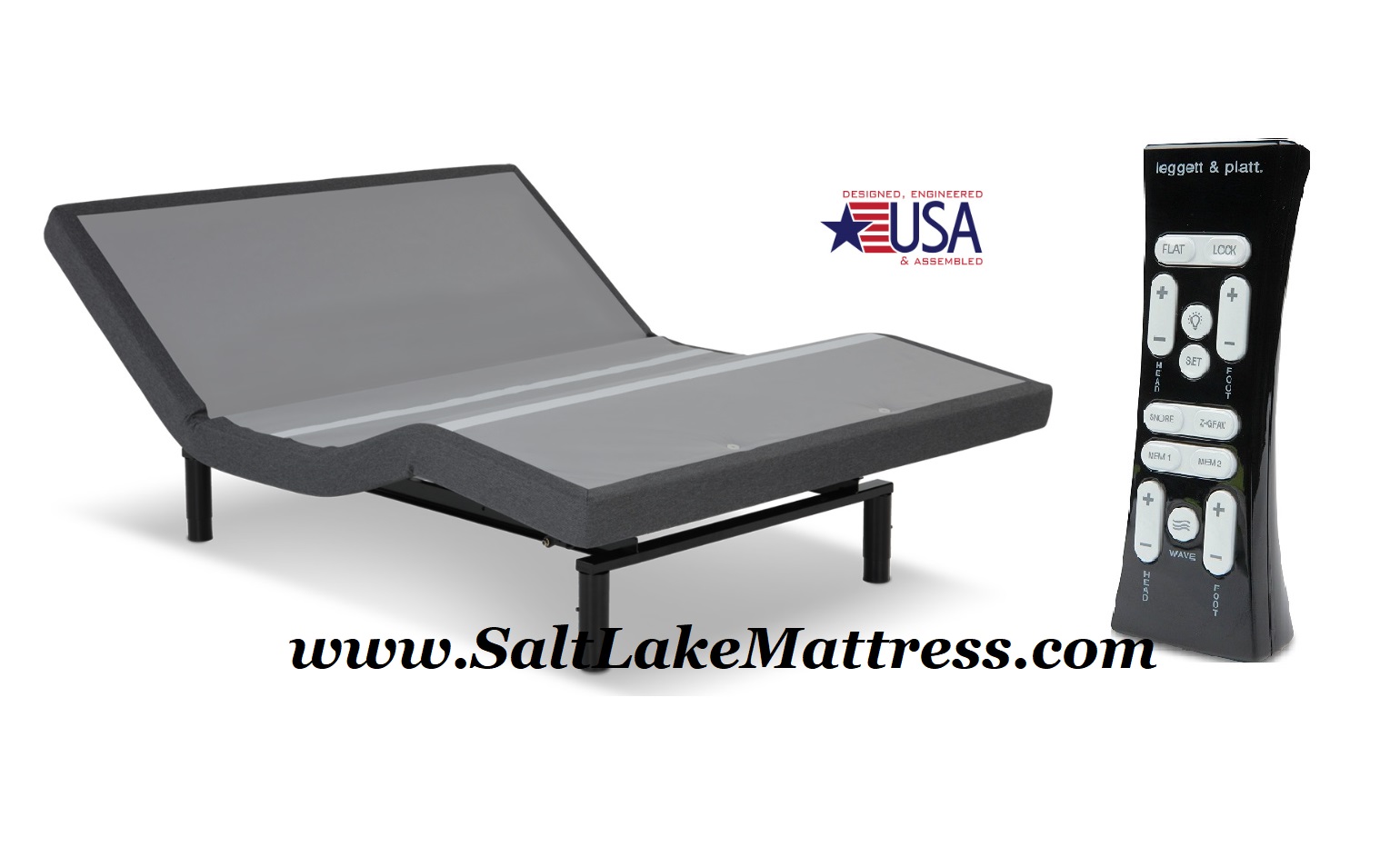 Bradley's Sleep Center Promotional Pricing
Twin XL 2.0 38 x 80 (Use 2 for a King) $1149 ea. Twin 2.0 $1149
38 x 75
S-Cape 2.0 Edition
Full XL 2.0 54 x 80 $1149 S-Cape 2.0 Edition Full $1149
54 x 75

Queen 1.0 Editon
60 x 80
$899 - Last One! Split Queen Set $2199 S-Cape 2.0 Edition
King Set 2.0
76 x 80
(2 TwXL) $2199 S-Cape 2.0 Edition Cal King Set
72 x 84
(2 Pieces) $2199 (See the new S-Cape 2.0 Edition for all sizes expect for Queen)These bases are currently on sale! Call us to speak with a representative for discounted pricing!
Full-body Massage
The fully adjustable dual massage, built into the adjustable bed base, incorporates our wave technology. Dual massage means that there are two separate areas at work to soothe you – one to loosen up those shoulders and one to focus on those hard-working legs. Wave technology means that the awesome sensation of relaxation travels from head to toe and back.
Back-lit Stand Up Wireless Remote w/2 Customizable Positions
This remote does all of the essentials including offering two preset customizable positions in addition to a flat button. Of course you have your head and foot controls but the S-Cape also features two massage controls to adjust the setting to your favorite intensity. The remote stands up on your nightstand for easier access when its late and if the power dies in the middle of the night, there's a button on your power down box to help lower the unit if needed. Plus, 2 customizable positions and one touch buttons will help you find your sweet spot quickly.
Wallhugger and 850 lb Weight Rating Engineering
Leggett & Platt's innovation team developed state-of-the-art technology that puts you at the center of the bed's motion. While other adjustable bed bases lift your upper body away from the wall – and away from your nightstand – bases with Wallhugger engineering lift you up while simultaneously gliding you back. That means your favorite book and the remote control are within reach whenever you're ready for them. Also take comfort in a nation-leading 850 lb weight capacity for extra longevity.
Whisper Quiet
Whisper Quiet is our quietest motor yet. Continue to hear every minute of your favorite show or every note of your favorite song while simultaneously adjusting your bed. Want to change positions without waking that sleepy-head next to you? Not a problem.
Includes 4" Legs. 5" and 2" Legs are available for
$40 per set

and Headboard Brackets (Txl or F-Q)
are
$55 per set.
Purchase the S-Cape 2.0+ Edition for $100 more ($200 more King) than the above prices and add 4 USB Ports and Wireless App Compatability,
or the S-Cape 2.0 Furniture (NA in Twin, Full, and Split Qn) Edition for $160 more ($320 King).
Optional Wireless Bridge Available for App Support on 2.0 models.