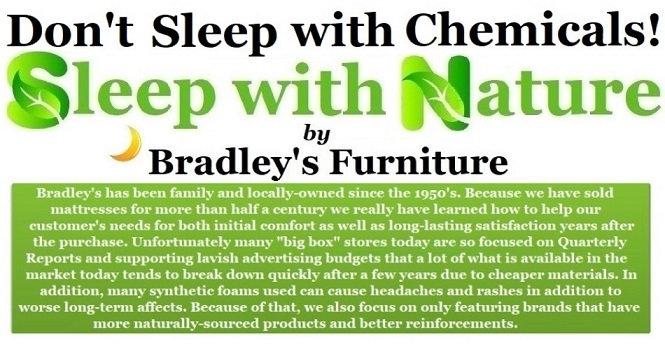 More and more we learn of corners and shortcuts taken by mattress manufacturers to keep costs down and profits up; shortcuts that increase heat, off-gasing, toxins, and chemicals in the single most intimate product of all... our mattresses. Luckily there is an alternative to Memory Foams, Innersprings, Dunlop Latex, and Gel-Cell Mattresses that provides a luxurious comfort, breath-ability, and most important; a natural product that will help your body to rest deeply and healthily. We always recommend Talalay Latex as the best option for all types of sleepers but especially back and/or side-sleepers to sleep cool and comfortably for up to 20 years.
While we display the most Latex and Organic mattresses on display in all of Utah in addition to
a Serta gallery showcasing beds in the Perfect Sleeper, Sunset, and even their locally produced Hotel Lineup featuring
double-sided mattresses that are free of memory foams and work wonderfully with a raw Latex Toppers, the selected models on this page have been hand picked do to their amazing value and ability to be shipped anywhere in the lower 48 US states for free (other non-compressed mattresses usually cost around $400 to ship with a LTL truck). These three core models (one memory foam, one pocket coil latex, and one organic latex and wool) also have the added benefit of combining with toppers that give great flexibility for customer ordering sight-unseen online to make a change down the road free of cost without having to send back the core mattress since toppers are easily swapped to a different firmness or size if needed. Se
veral independent studies that we have seen show that
Latex (specifically Talalay) mattresses are one of the best products at achieving
breath-ability, pressure relief, support, and longevity for all types and sizes of sleepers yet sadly most mattress stores don't even offer them products on the floor because they are not as profitable for their bottom lines. Rather than even display a natural mattress many stores have made up your mind that you would be better off not looking at a natural and organic alternatives to their chemically-laced creations... but not us!
We look at the components of every mattress line we sell to ensure each of our products have natural ingredients designed to keep you and your family healthy and sleeping well for years to come. In our experience, l
atex holds up better than any other product and lasts almost twice as long when properly rotated. If you can afford to upgrade from Dunlop to Talalay you will experience even less breakdown overtime especially in the softer densities and more longevity. Because of that and several other
reasons we feature six different models on this page at different price points built with natural products that ship for free! And, if you order a model below with a topper included then we allow for one free latex swap to ensure that you love your product. We have decided to keep costs as low as possible and to not offer returns on core mattresses since we have the flexibility we mentioned with toppers to change profile and feel. Most other online companies build in the cost for returns which means that their $1000 really shouldn't cost more than $400. If you have tried other bed-in-a-box companies and been disappointed then we think we have a great product that you'll enjoy.
We are also happy to offer a huge selection of Adjustable Bed Bases from three of the top companies in America (Serta, Reverie, Leggett and Platt) that will work with every one of these mattresses on this page.
Due to the difficult return shipping nature of adjustable beds and mattresses we do not offer returns but have a topper program set up to help adjust the comfort level. We will swap any topper purchased with a mattress combo for another topper of equal or lesser value one time for free during the first 30 days. If a customer wishes to upgrade to a thicker or more expensive topper they will be charged the difference between the old and new topper. Speak to a sales associate with questions. The buyer is responsible for return shipping on mistake orders or those no longer needed. Call us with any questions on this policy!