Sunset Power Head and Foot Adjustable Bed Frame w/One Touch Buttons, and Three Programmable Positions including Zero-G and Anti-Snore Presets
Rated for 650 Lbs- 2 Year Full Warranty and 3 More for the Frame (5 Total)
with optional extension to 10 years full coverage for $120 more.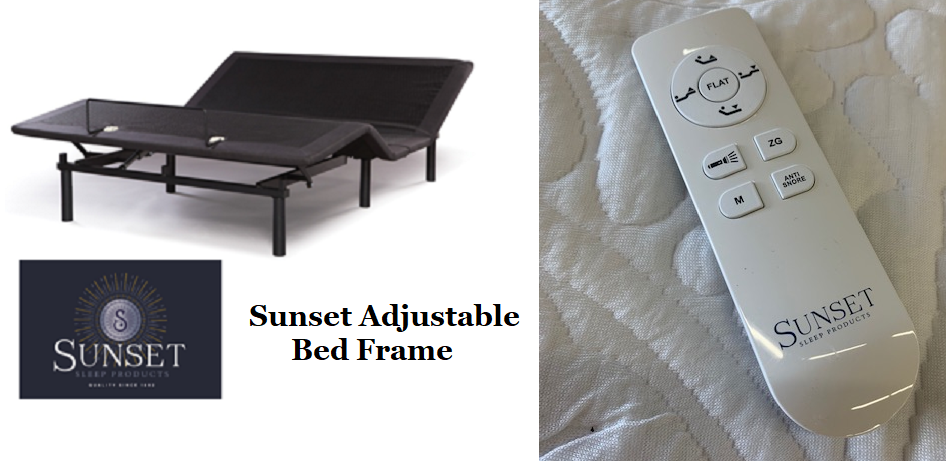 Twin XL $599 Full $699 Qn $699
650 Lb Rated Weight Capacity
(Cal King N/A on this model but we can special order the
BedTech BTX4
series which has the similar features less one ZeroG Button and flashlight in all sizes w/a 850 lb weight rating for the same price
or the
BedTech BT2000
with the exact same features minus the custom positions for $200 more)
The Sunset Adjustable Power Bed Frame features an Okin Premium motor rated to 650lbs and allows both the Head and Foot to adjust with manual controls or one-touch into zero-g, flat, anti-snore position, or a custom preset. What is unique with this model is that all 3 presets are programmable to custom positions (do so by holding the ZG, M, or Anti Snore button for 10 seconds once the bed is in a desired position to set the button and then one touch in the future)! The wireless remote features a light to help you at night and runs off of AAA batteries. The frame has three different height leg settings and can even be used "Zero-Clearance" if you have a platform bed frame or one with drawers. On display today or available for pickup in any size from our local warehouse and warrantied by the largest mattress maker in the USA! This comes with a 5 year warranty (2 full coverage, 3 Frame) and an optional 10 year full coverage extension warranty for $120 more.