Leggett & Platt Prodigy Comfort Elite Premier Adjustable Base
850 Lb. Whisper Quiet Motor - 1-3-25 Warranty- Made in the USA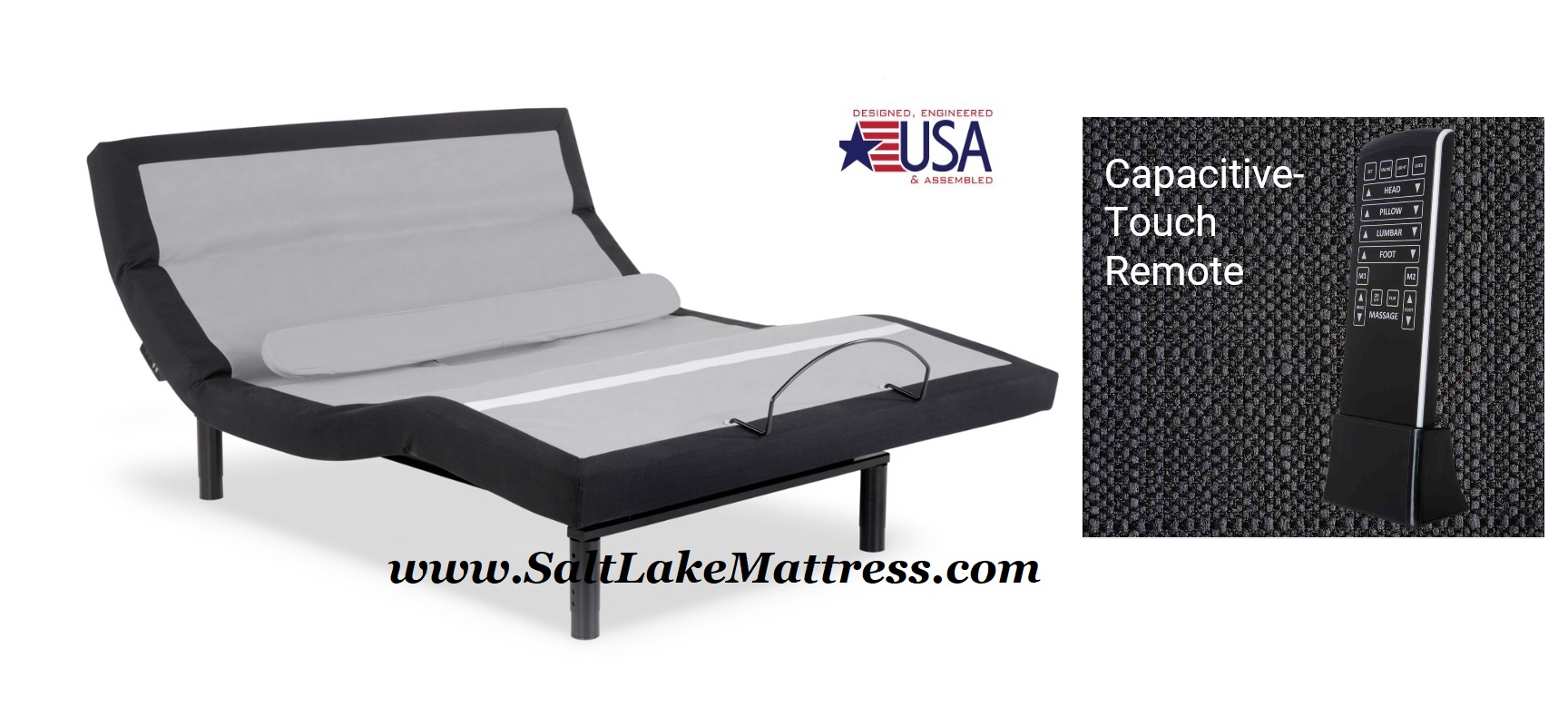 Bradley's Sleep Center Promotional Pricing
King Set
76 x 80
(2 TwXL) Was
$3299
Floor Model Last One $2999
- ALL OTHER SIZES DISCONTINUED
Tech Details:
The inspired design of the Prodigy adjustable bed base is a welcome indulgence for all who seek tranquility. Feel the stress melt away when you activate the sensuous built-in massage. Change positions with ease with our wireless touch screen remote. With its clean design and state-of-the art technology, our Prodigy 2.0 base is as smart as it is beautiful.
Full-body massage
The full body dual massage, built into the adjustable bed base, allows for three different intensity settings and even offers a massage wave set through the app. Dual massage means that there are two separate areas at work to soothe you
–
one to loosen up those shoulders and one to focus on those hard-working legs. Wave technology means that the awesome sensation of relaxation travels from head to toe and back.


Intelligent remote
You won't believe everything our two-way wireless remote can do. As you might expect, you can adjust your position and massage. But it also remembers two (four through the app) of your very favorite settings. Make one of them your favorite sleeping position, and the sleep timer will gently move you there just as you're drifting off. Plus, it is back lit to help during those late night shifts.
Helpful App Support
For more features make sure to download the new Prodigy app on your Apple or Android device. From this screen you can access advanced features such as the massage wave, four programmable positions, a sleep timer which will return the bed flat after 10-90 minutes, and even allow you to set a "gentle-wake alarm" for those early mornings. You can also operate every other feature that the remote is programmed to do.
Wallhugger, Lumbar Support, and Pillow Tilt engineering
Leggett & Platt's innovation team developed state-of-the-art technology that puts you at the center of the bed's motion. While other adjustable bed bases lift your upper body away from the wall
–
and away from your nightstand
–
bases with Wallhugger engineering lift you up while simultaneously gliding you back. That means your favorite book and the remote control are within reach whenever you're ready for them. Also, if you need your head angle adjusted just a little more for watching TV or reading a book before bed, the pillow tilt can help get you into the perfect position every time! Finally, for a little more support in your lower back simply raise the lumbar section to your preferred firmness. The Prodigy features a nation-leading 850 lb. weight rated motor for extra strength and long life.
Whisper Quiet Operation and Under-bed Lighting
Whisper Quiet is our quietest motor yet. Continue to hear every minute of your favorite show or every note of your favorite song while simultaneously adjusting your bed. Want to change positions without waking that sleepy-head next to you? Not a problem. What if you need to get out of bed at night? Tap the "light" button to help guide you back into bed without disturbing your partner.
Includes Adjustable Legs that will set between 6" and 10" high.
Headboard Brackets (Txl or F-Q)
are avail. for
$55/set.
Also check out the Prodigy 2.0 Edition
without lumbar support!